Puppy Basics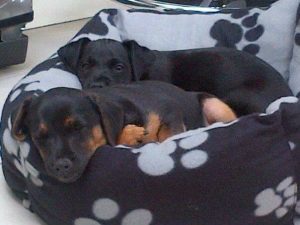 This course lasts 6-weeks and is dedicated to producing a well-rounded and confident puppy. All content is taught in such a way that each individual puppy is able to progress at his/her own pace and developmental stage. This allows a strong bond between owner and dog to develop at a crucial age. Furthermore, the owner is provided with valuable information and advice about what to expect at each stage of the puppy's development along with a sympathetic ear for the frustrating stages of puppy development.
When:
7pm-7.45pm on Thursdays. Flexible start times means that you don't have to wait for the 6 week course to finish before signing up! You can join whenever you want as long as there are spaces in the class. This is perfect for making sure your puppy starts their socialisation as soon as possible and we offer the only flexible start date puppy class in the area!
What to bring:
Small, high value food rewards (preferably a variety), a favourite toy, lead, flat collar and/or harness, a chew toy or filled kong and something comfy for the dog to lay on between exercises. Any family members welcome, this is a fantastic course to teach the whole family how to deal with their new canine family member.
Health requirements:
All attendees must have received their first vaccine, allowances can be made for puppies that haven't yet had their second vaccine. Any other health issues should be reported in order to ensure the safety of the dog at all times.
Class size:
6 dogs maximum.
Cost:
£80 per dog.
Location:
Lead On Dog Shop's on the Granby Industrial Estate, Weymouth (DT4 9TJ).
Registration:
The booking form can be found at: https://goo.gl/forms/JABj8WTB93e75sCP2
Contact Emma at emma@pawbypawtraining.co.uk for more information or to register your interest for this course.