Emma Phillips (BSc, IMDT, UKCSD, WSDA) - head behaviourist & trainer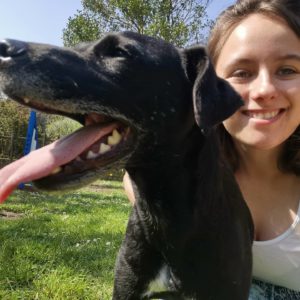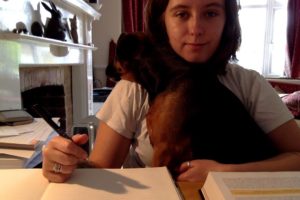 Paw by Paw Training in Dorchester is owned and run by Emma Phillips. Emma has been training dogs for eight years, pursues an extremely active programme of continued professional development, both theoretically, as demonstrated by her undertaking a three year masters degree in Clinical Animal Behaviour from the University of Edinburgh, and practically, demonstrated by her commitment to training her dogs professionally at least three times a week. 
Emma currently holds an undergraduate degree from the University of Reading in Zoology, with a specialisation in animal behaviour, a full qualification with the Institute of Modern Dog Trainers (IMDT), a tracking instructor qualification from the UK College of Scent Detection (UKCSD) and is a level one judge and trainer for the World Scent Detection Association (WSDA). Emma is also a student member of the Fellowship of Animal Behaviour Clinicians (FABC), FABC ensures that their members are committed to their professional and academic development, with this being reviewed on a yearly basis. 
Emma was recently awarded Dog Trainer of the Year for the South West of England by the Prestige Awards two years running. Winners are chosen by an independent panel of judges who examine the services offered by a business, for both their uniqueness and quality assurance. 
Emma specialises in serious problem behaviours, particularly aggression. Her life with her own dogs has given her first-hand experience of how challenging it can be to live with a dog who has these problems so she is passionate about helping her clients through this. Emma addresses these issues in one to one sessions, working closely to support both owner and dog with whatever they need, as well as through her incredibly popular Reactive Rovers classes designed to help dog reactive dogs and introduce them to a class environment. 
Pumba - Call me Mr Pig (ntd, itd, atd, Etd, vRL1-Ex)
Pumba is an eight year old Patterdale terrier who has been with Emma since eight weeks old. He's been an very challenging dog to work with as he has incredibly strong prey drive which means getting his attention out and about in the countryside has been a challenge at times! Due to bad experiences he's also afraid of children and men.
Pumba is the reason Emma is so passionate about remedial life skills training as Emma recognises how much loose lead walking and training a solid recall have improved their day to day lives. Upon leaving the house or a training hall Pumba used to pretty much pay absolutely no attention to Emma no matter what she tried, what treats she had or how exciting she was! They've done extensive behaviour modification in the form of counterconditioning, desensitisation and shaping to help him overcome his fear of children and men. For fun Emma and Pumba train and compete in trick training, parkour, tracking, rally, obedience and agility. His show name is Call Me Mr Pig (hopefully some Lion King fans get the reference!). He currently has his Novice, Intermediate, Advanced and Expert Trick Dog (one of three Patterdales in the world to have this title! (as of February 2021) titles, RallyOnline Level 1 Excellent title and the first leg (out of three) towards his RallyOnline Level 2 Excellent title.
Pumba suffers from a long term skin condition which means he needs regular medication in the form of an injection. In order to minimise the stress of these injections Emma has worked really hard to make the vets not only a fun place to be but to make injections as pleasant an experience as possible. Pumba is now able to have injections without any restraint or force whatsoever and as a result absolutely loves his monthly vet visits!
timon - timmy choos (ntd, Itd, Atd)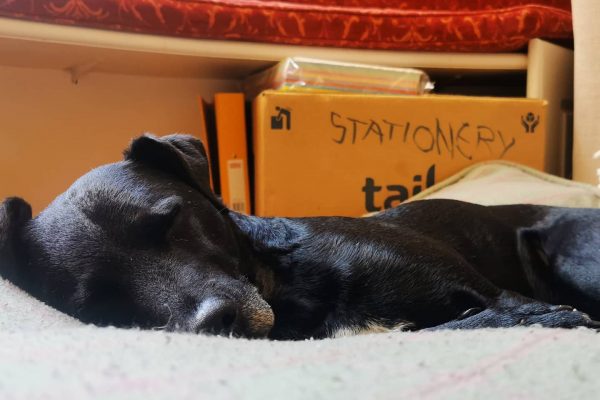 Timon is Pumba's brother from the same litter. He is also a challenging dog but in very different ways from Pumba. Timon's prey drive is much less extreme, therefore being easier to own day to day and simply take for a walk. However, he goes 0-100 in a blink which has been a challenge to learn to channel and control appropriately, especially when he just wants to go crazy! Anything overexciting leads to him jumping up (he can reach Emma's face!) and snapping his mouth. He does not intend to bite but he can occasionally catch you in the process and it's a little painful! After lots of hard work this is much less of an issue but the journey fixing it taught both Emma and Timon more than any textbook ever could. 
As a team, Timon and Emma have struggled as soon as external pressure is placed onto training so their activities have mainly focused on just having fun together. Despite this, Timon has his Novice, Intermediate and Advanced trick dog titles. Timon is trying his paw at rally with Emma's mum, Susan, and has his first leg (out of five) towards his RallyOnline Level 1 title. 
Timon is absolutely petrified of the vets and this is something Emma has been working on with him for a few years. They've worked on consensual handling at home and desensitisation to the vet practice which scent work has helped hugely. Timon has come on leaps and bounds, previously he would scream upon being driven into the car park. He's now at a stage where he can enter the practice and do some tricks on pieces of equipment such as the scales and examination table, although he's still very worried as soon as a vet comes near him which is still a work in progress. Going to the vets with your dog when they are ill or in pain is bad enough even when your dog doesn't mind the vets too much so Emma is passionate about turning the vets into an experience Timon can tolerate if not enjoy. 
Julia tonner (IMDT, Prodog trainer) - Trainer
Julia is an IMDT and ProDog qualified trainer who has over seven years of experience working with dogs. She currently trains her dogs, Yoda and Frodo, in agility, obedience, rally, as well as working on the life skills necessary for them to be her perfect canine companions. 
Alongside her full time job, Julia has been volunteering to help at classes in Hampshire, Scotland and Dorset and has been helping out at Paw by Paw Training since August 2018. In addition to working full time and helping out at classes Julia pursues an extensive range of continued professional development including an Advanced Canine Behaviour Diploma with The British College of Canine Studies and Puppy Lab with The School of Canine Science. 
Julia is a wonderful trainer who easily adapts to the client in front of her (both dog and human) and can come up with sensitive, creative solutions to any problem placed in front of her.
Alice Goddard CHW Level 1 Instructor- Trainer & Behaviourist in Training
Alice has over 3 years of experience working in rescue especially in rehabilitating and rehoming dogs. Alice has been training her own dogs since she was 7 and has an abundance of experience in a number of sports including agility and scent work and is a qualified Level 1 Hoopers Instructor with Canine Hoopers World.
Alice has been volunteering in training classes with Paw by Paw since 2021. She is pursuing further education with her foundation degree in Applied Canine Behaviour and Training at Bishop Burton College starting September 2022. Alongside this, Alice regularly takes courses from providers such as the School of Canine Science.
Alice is a fantastic trainer who always has something positive to say, even when teams are really struggling. Even a bad training day feels like a good training day when Alice is around! She ensures that your concerns will feel heard and can help you work around any challenges you face with out of the box thinking that ensures the solution that works for you is found.
Shannon Rodway (BSc, NAVP) - Veterinary Physiotherapist
Shannon owns SR Veterinary Physiotherapy and is a veterinary physiotherapist who treats both Emma and Julia's dogs. Having seen how fantastic Shannon is with nervous dogs (remember Timon is petrified of anyone who acts like a vet!), Emma and Shannon started working together on cases where Emma felt the patient would benefit from physio treatment. Shannon has joined the team for our popular Reactive Rovers classes to highlight any areas where dogs may be in pain as pain is so closely linked to aggression and reactivity. In addition, one to one clients are often referred to Shannon. 
You can find out more about Shannon HERE. 
Our trainers are devoted to making your life with your dog easier, whatever that may mean for you. Our mission is to help you sculpt the life with your dog you envisioned when you brought them home.
Our trainers envision you enjoying training so much and having all of your day to day training or behaviour needs met that you continue to train your dog past what you need purely because you both enjoy the experience that much!