Welcome
 'Stress free learning with compassion and understanding'
with Emma Phillips BSc (hons.), IMDT (Institute of Modern Dog Trainers), UKCSD (United Kingdom College of Scent Detection)
-Coronavirus Updates-
Given the announcement today about stopping all non-essential social contact and travel, I have made the decisions to move as many of my services online as I can.
I consider my work essential but I realise that for many of my clients attending training classes may come under the heading of non-essential and am adapting to accommodate for this.
CLASSES
– Canine College, Puppy Basics and Life Skills & Basic Obedience are all being moved online as of this week for the foreseeable future. Everyone will be given access to private Facebook groups for each course where exercises will be posted with any relevant lectures/associated reading each week. Clients are also welcome, and encouraged, to upload a total of 15 minutes of practice videos per week for personalised feedback. This can either be one long practice session or a number of small clips of a number of practice sessions that don't add up to more than 15 minutes in total. Advice will be given to everyone for how best to film, upload and deal with the relevant technologies. In the future I will look to utilise platforms such as Zoom to host webinars at the same time classes are usually on.
– Reactive Rovers will go ahead this week as we have fewer bodies attending and sufficient space for each of us to have a corner to hide in. We will discuss at the session how to proceed and how I can best support you online. I have a few ideas but they will take me some more time to implement than other classes. Please keep at least 6 feet between yourself and all other attendees, trainers and assistants at all time.
– I've already had a number of clients get in touch to say that they're self isolating for whatever reason. Huge thank you to all who have done so, I really appreciate what you're doing in order to keep yourself and others safe. I ask that anyone who is experiencing any signs of illness and is due to attend Reactive Rovers on Wednesday continue to self isolate as per government advice and keep me up to date if they are ill at all.
– When the government advice changes and we are allowed to reenter the public without as much concern for public health then I will organise a date for all class attendees where they may attend and ask any questions or get help with anything they have struggled with free of charge.
121 SESSIONS
– For now, if you consider the content of your 121 session to be essential then it will be going ahead. I will be checking in with clients to determine this on a weekly basis. This allows me to keep up to date with everyone and adjust as the government advice changes each week.
– If you do not consider the content of your 121 session to be essential then it will be moved online for anything other than BAT/counterconditioning and desensitisation sessions with a stimulus that worries your dog. If your sessions are focusing on desensitisation to a stimulus and you do not consider them essential then they will be postponed until the government advice changes.
– All 121 clients on the books at the moment will be added to a 121 client group where general advice is posted that the majority would benefit from and will also receive personalised training plans and exercises in lecture, video and infographic form as well as their appointment in the form of a Skype, Zoom, WhatsApp, Facebook message or bog standard phone call (technological tool of choice depends on what you feel most comfortable using and would like to address most in your appointment).
I realise that a number of you are waiting on things like homework emails and 121 reports. I'm really sorry but the contingency planning for COVID-19 has eaten up rather a lot of my admin time. I am working on it and doing my best, they are on their way I promise but normal routine has been rather disturbed at the moment!
Huge thank you to everyone for their patience and support. This is a scary and trying time for the self employed and I cannot emphasise enough how much I appreciate everyone sticking with me.
If anyone has any questions about their specific circumstances please feel free to message the page, email me (Emma@pawbypawtraining.co.uk) or comment below.
All the best,
Emma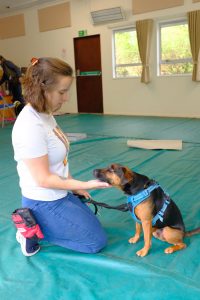 At Paw by Paw Training we are able to help you with your dog no matter what the problem is. From a cuddly puppy that needs help with toilet training and learning that being left alone is a great thing to an adolescent who has completely forgotten what their once fabulous recall was, from an adult dog who you'd love to stop jumping up to a rescue dog who's displaying worrying behaviour in the form of aggression towards other dogs or people, Paw by Paw has the answers! Click on any of the relevant tabs to see what services we offer for your situation or email emma@pawbypawtraining.co.uk with the problems you're experiencing to find out more.
Covering Weymouth, Portland, Dorchester and surrounding areas. Other areas in Dorset by arrangement.
0777 544 8828 | emma@pawbypawtraining.co.uk